HANNAH CRITCHLOW
Bestselling Author, Broadcaster & Neuroscience Presenter, Named by Nature as "Rising Star in Life Sciences"
Dr Hannah Critchlow is an internationally-acclaimed neuroscientist, broadcaster, author and Fellow at Magdalene College, University of Cambridge.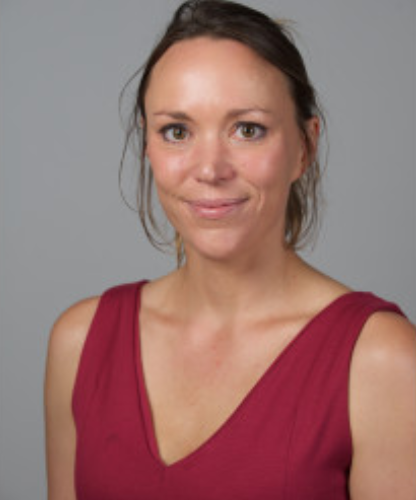 She regularly appears on the BBC TV and Radio, most recently as Science Presenter in Family Brain Games with Dara Ó Briain, Tomorrow's World Live and BBC Radio 4 Destiny and the Brain. Her book on Consciousness: A Ladybird Expert Guide, was published with Penguin in 2018, whilst The Science of Fate, published with Hodder in May, 2019, made The Sunday Times Bestseller list, receiving international press coverage.
In 2019 Hannah was named by Nature as a 'Rising Stars in Life Sciences'. She was recognised as a 'Top 100 UK scientist' by the UK Science Council in 2014 and one of Cambridge University's most 'inspirational and successful women in science' for her work in science communication.
Hannah has extensive experience creating and delivering interactive talks, workshops and panel discussions for a variety of clients including those in the legal, business and policy setting. Her expertise spans topics from decision-making, morals and ethics, resilience, mental wellbeing, boosting brain performance, intuition and creativity, collective intelligence, to communication and recruitment strategy.
Hannah has spent the last 1.5 years researching and writing her 3rd book Joined up Thinking – how to boost brain power with team synergy, due to be published with Hodder June 2022.
Kostnadsfri förfrågan
Hannah is a top professional – diligent and easy to work with. Hannah has the ability to simplify complex neuroscience into content that is easily digestible. She delivered a fantastic session full of knowledge and practical ideas for leaders to take away and use immediately
Brendan Barns
Founder London Business Forum
Hannah was one of our favourite ever speakers at 5×15- she's dynamic, and an incredible communicator of complex and profound ideas. She wowed our audience in Hackney with her laughing rats and astounding insights into the human brain- we can't wait for her to come back to join us again.
Daisy Leitch
Director of 5 x 15
"Hannah gave a talk at the How To Academy's annual Conference on How To Change the World and she was absolutely fabulous. It was a totally inspiring talk that had the audience completely rapt. She is the most brilliant communicator of science.
John Gordon
Director of How to Change the World Academy
We've worked with Hannah for 4 years….she has an exceptional ability to communicate complicated ideas about science and technology in a way that speaks to the general public and to schools audiences. She's lectured about developments in neuroscience at Hay several times to audiences of 1,000 and 1,750. It's a scale that's challenging for most teachers. She works the space like a rockstar. Each time she has had the highest possible response rating from the audiences, both from students and from professional adults.
Peter Florence
Director of the Hay Festival
"Hannah gave a talk on "The Science of Fate" at our recent Day on Human Nature Online Conference. She was a joy to work with from start to finish. Hannah's knowledge is both wide ranging and in-depth. The presentation combined groundbreaking science, interesting examples, and practical insights that participants could use in everyday life. If you get the chance, I highly recommend working with Hannah as a speaker.
McKever, Founder
The Weekend University
Sometimes people just blow your mind with insights that you never ever imagined. Hannah Critchlow is one such expert that we work with that never stops to amaze. We talk so much about how to be efficient, perform as a team, take decisions – but rarely do we talk about the actual organ in our body that does this for our. Our Brain! Hannah's research into collective intelligence, team work, communication, performance, resilience, ethics etc from a neuroscience perspective is absolutely fascinating.
Tatjana Marinko
Middle East Director of the London Speaker Bureau
Hannah has been a leading presenter at the Cambridge Science Festival for many years, and thousands of people from schools and family audiences have really enjoyed her interactive demonstration lectures. Hannah's clear and lively communication style has brought the subject of neuroscience alive and her popular talks have received great feedback. Hannah also carried out a number of thoughtful and targeted public engagement activities with community groups including Squeaky Gate, a charity empowering people including those with mental health issues through arts and music.
Nicky Buckley
Former Head of Public Engagement, University of Cambridge
The human brain is one of those subjects of such forbidding complexity that anything less than a clear, engaging, approachable and intelligent talk would leave an audience staring blankly at an imponderable galaxy of neurons and synapses. Hannah Critchlow's lecture, to several hundred A- level Biology students, more than exceeded these testing requirements. She has the rare and important quality of being able to distil even the most recondite ideas for an audience beyond the laboratory and in doing so reminding a young audience that scientific inquiry is for anyone who is curious. It's particularly exhilarating to see a group of students being guided expertly through the great leaps in understanding made in neuroscience, to learn about the truly wondrous advances still to be made and perhaps to wonder if they could be the ones who will be making the discoveries of the future.
Dan Powell
Director of A'Level Science Live
Hannah Critchlow is the most brilliantly engaging speaker. She wowed a Shambala crowd of 200 at the festival in 2018, and we couldn't wait to have her back this year. One of our absolute highlights of last year.
Sophie Chatz
Shambala Festival programmer